LOOKING FOR NATURAL AND SAFE PRODUCTS FOR YOUR HOUSE?
Especially for you, we have created an innovative line of natural BIOstar cleaning products for keeping your whole house clean.
Based on knowledge and long-standing experience of our technologists, unique recipes have been created, which combine the power of natural cleaning ingredients, the safety of natural plant extracts and the Natural Bioactive Agent with probiotic. Thanks to this unique combination of nature and science, our products not only perfectly remove dirt and unpleasant odours, but also allow you to maintain an optimal biological balance in your household to keep it clean and hygienic for longer time.
WHAT MAKES OUR PRODUCTS DIFFERENT:

Content of ingredients of natural origin

100% natural plant extracts

Content of the Natural Bioactive Agent with probiotics

No harmful chemicals, such as microplastics or boranes

Surface-active agents with exceptional efficiency


Environmental safety – the ingredients are biodegradable

Reduced water consumption thanks to appropriate dosing instructions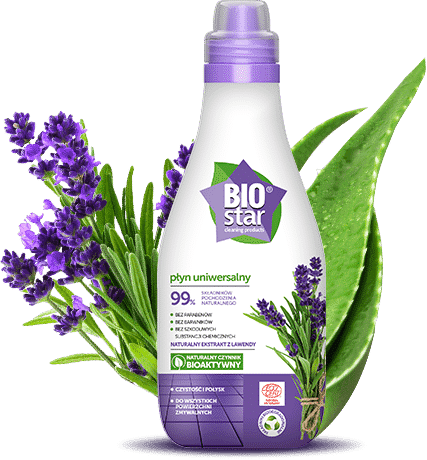 The products of BIOstar cleaning series are manufactured applying environmentally friendly production technologies with the use of natural raw materials. They meet environmental criteria, which have been confirmed by certificates of trusted and independent certification bodies: PCBC S.A. Polskie Centrum Badań i Certyfikacji S.A. or ECOCERT Greenlife SAS.